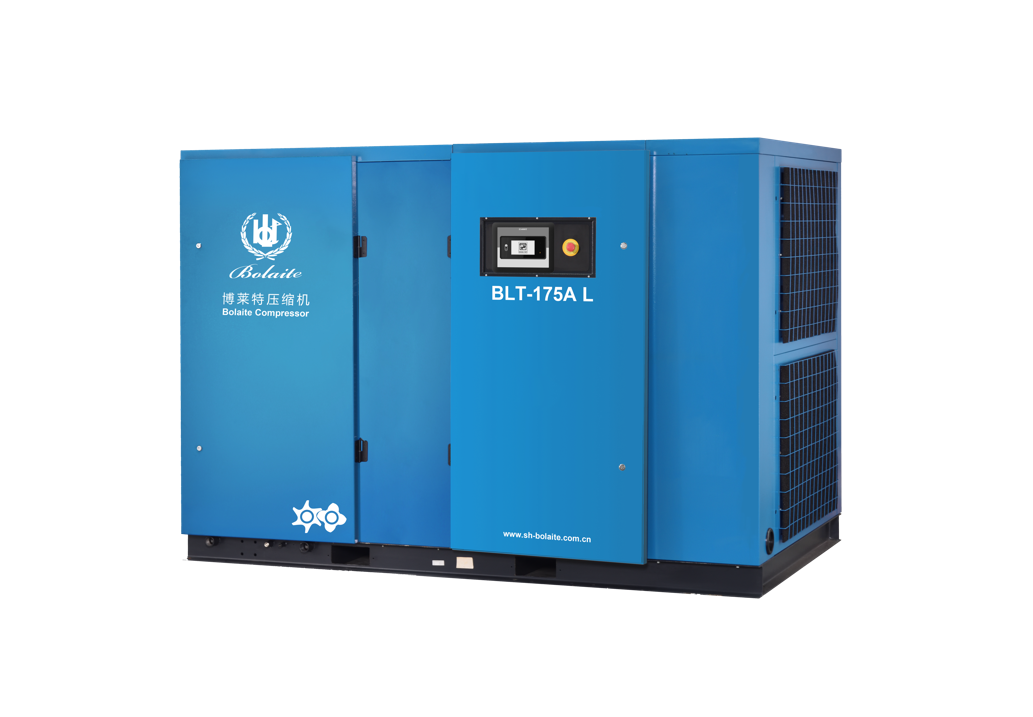 BLT L Low-pressure Air Compressor
Excellent energy efficiency and steady performance
In China, there are many enterprises engaged in textile, ceramic, glass and chemical industries, and all of them face fierce competition and great pressure on production cost. When compressors were used in these industries in the early stage, they caused huge energy waste and increased production cost due to unreasonable model selection and pressure mismatching. By tailoring for customers and lean manufacturing, Bolaite has developed a new generation of low-pressure screw compressors for applications in low pressure related industries.
Atlas Copco main unit
• The Atlas Copco main unit specially developed for low-pressure applications has a SAP profile and can save energy by more than 25% on average under low-pressure conditions. With SKF heavy-duty bearing and highly rigid rotor, the main unit suffers less mechanical loss and prolongs the bearing life by 30%. Independently developed intelligent control system
• All-imported control system, with Atlas Copco Group's patented design
• Touch screen design, IP54 protection, CSA and UL certification
• Built-in intelligent interconnection system, which enables the control of the whole machine's operation information, maintenance reminder and fault alarm anytime and anywhere
Electrical system
• With standardized design, safe and reliable
• Specialized wiring interface, making the wiring reasonable, compact, clear and easy for maintenance.
• Schneider and Siemens high-configuration series components adopted for the whole system
Vacuum intake valve
• Low pressure loss, saving more energy and maintenance-free
• A few moving parts contained, without spring and other vulnerable parts and with its service life increased by 10 times when compared to a spring intake valve
High-quality motor
• Efficient design and SKF bearing adopted for the whole series to ensure an extra-long life of the motor
• IP55 protection and fully-enclosed motor, ensuring normal operation under severe working conditions
Steady and clean air supply
• Optimized oil-air separation system, with ultra-low oil content (≤ 2 ppm) and able to provide steady and clean air supply
• Ultra-large oil and air containers provided, with pressure drop < 0.08 bar
Pre-filtration protection
• A pre-filtration screen is specially designed for compressors used in textile and other industries, to prevent sundries such as cotton wool from entering the interior of the machine casing, keep the interior of the machine casing clean and prolong the maintenance period. In addition, this screen is easy to clean and reusable.