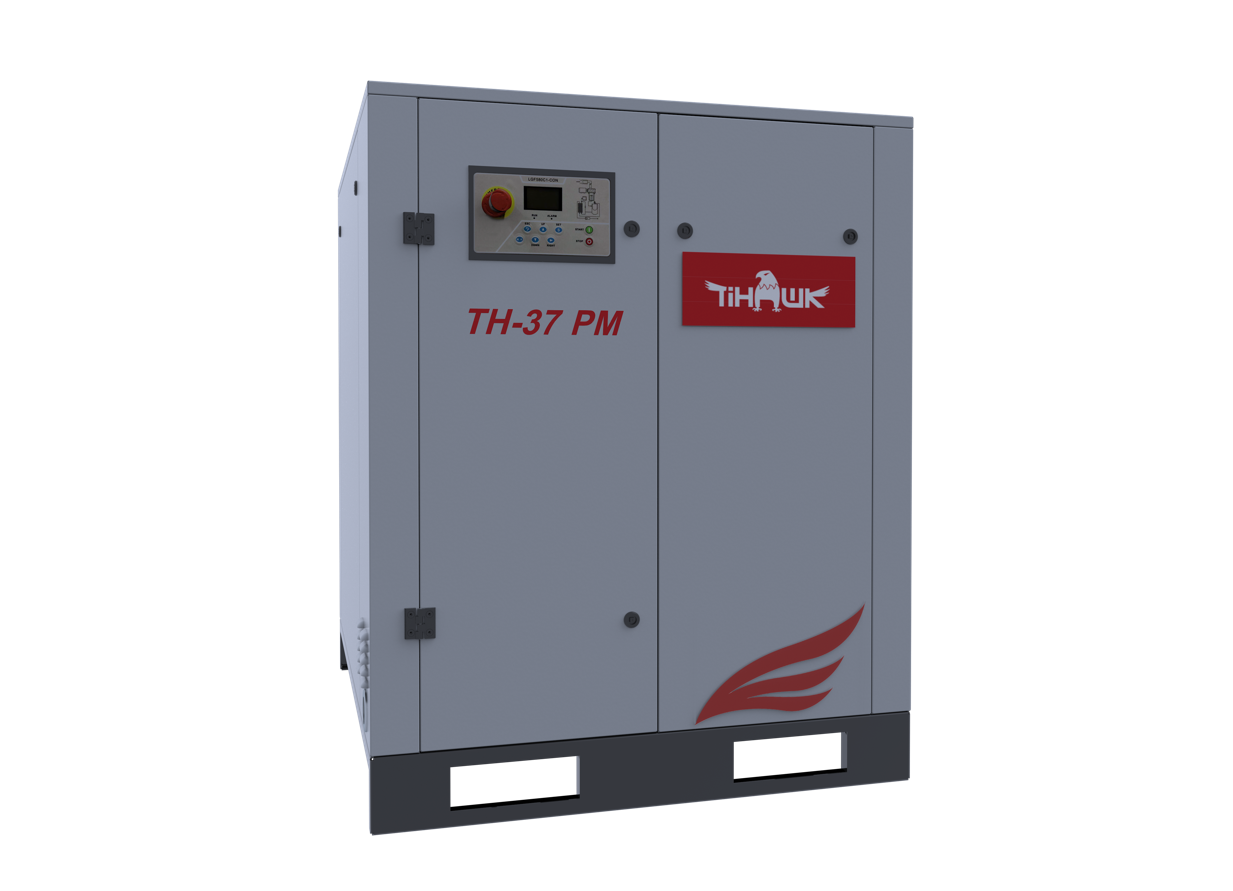 TH Variable Speed Air Compressor
Excellent quality and steady performance —safe and reliable, worry-free operation
More than 140 years of historical inheritance and technical experience
• Tihawk series air compressors are designed with reference to the rich experience of the Group in Europe in the air compressor field and in consideration of Chinese users' application conditions. In addition, strict testing standards of the Group are followed to ensure reliable quality for each air compressor of Tihawk series.
• The compressor possesses multiple self-diagnosis functions, so that steady air supply and safe operation of air compressor can be guaranteed.
• The whole machine is of modular design, with reasonable layout, firmness and durability. The machine is easy to repair. All relevant operations can be easily completed by one person, either during daily maintenance or repair for fault.
Reliability: Atlas Copco main unit; patented modular super castings; whole machine's enhanced countermeasures to high-temperature environment, making it easy to cope severe working conditions
Intelligence: humanized intelligent control system; perfect self-diagnosis and protection functions; fault information storage and easy daily management
Ease of maintenance: special pre-filtration protection against severe environment and reusable pre-filtration screen cover; separation design of cooler and fan, making cleaning easy and simple; all routine maintenance can be completed by opening one door, so that simple operation and safety are guaranteed
Atlas Copco main unit
• Atlas Copco's new-generation energy-saving main unit, subject to high-precision machining
• New SAP profile adopted, for which the tooth clearance has been optimized to 4-7 threads, reducing leakage and improving the efficiency of the main unit
• SKF heavy-duty bearing adopted to ensure an extra-long service life of the drive chain
Cooling system
• Ultra-large cooler, easy to cope with high-temperature environment
• Quiet cooling design and independent cooling fan adopted to effectively prevent the oil line system from generating condensate while ensuring a steady cooling air volume
Professional sound insulation design
• Fully-enclosed casing, special sound-absorbing material and noise-reducing partition used to reduce the noise to a lower level
• Leak-proof connecting pipes
• Combined connection of pipes and hoses, high-temperature and high-pressure resistant hoses and O-rings of new leak-proof design, and rigid and stable structural design adopted to eliminate potential leakage
Intelligent control system
• LCD screen, with display in both Chinese and English, as well as humanized menu structure design
• Automatic fault alarm, fault shutdown, maintenance reminder and fault information storage functions available to cope with emergencies in time
• Perfect control and detection functions, allowing quick and convenient adjustment made to unit parameters
Protective pre-filtration screen cover
• Easy to dismantle and clean
• Reduce the entry of particulates and dust into the machine casing, improve the inlet air quality and prolong the service life of air filter
• Reduce the unit noise
Application of frequency conversion technology helps to save more costs
• In the life cycle of an air compressor, the total cost consists of four parts: procurement, installation, maintenance and energy consumption costs. The energy consumption cost in the life cycle of each air compressor will account for about 77% of the total cost, while the initial investment in purchasing the air compressor is only 12% of the same.
• With the efficient permanent magnet motor and the market-leading vector frequency conversion technology, Tihawk permanent magnet variable frequency air compressor can significantly reduce its energy consumption, with the average energy saving rate up to 30%.
Features of whole machine: The Tihawk permanent magnet (TH PM) variable frequency compressor employs an NdFeB permanent magnet motor, with better energy saving performance and less noise.
Efficient permanent magnet motor
• NdFeB permanent magnet with high energy product is used.
• Countermeasures to high-temperature environment are enhanced, and the permanent magnet is wrapped with temperature-resistant materials, with the maximum temperature resistance up to 180°C.
Intelligent master controller
• Frequency converter matching design, vector control and efficient energy saving
• Integrated maintenance reminder, fault diagnosis and other functions available to realize unattended operation
Modular design
• Reduce potential leakage, reduce pressure loss and improve energy efficiency
• Compact and simple casing, easy for maintenance
型号

排气压力
bar
流量
m3/min
功率
kW
外形尺寸
LxWxH mm
重量
kg
出口尺寸

TH-7.5 PM
8.5
0.25-1.0
7.5
850x650x930
153
G3/4"
TH-11 PM
8.5
0.45-1.6
11
850x650x930
240
G3/4"
TH-15 PM
8.5
0.6-2.0
15
850x650x930
243
G3/4"
TH-22 PM
8.5
1.05-3.5
22
950x850x1020
331
G1"
10.5
1.05-2.9
TH-30 PM
8.5
1.4-5.0
30
1180x980x1225
491
G1 1/2"
10.5
1.4-4.3
TH-37 PM
8.5
1.7-6.2
37
1180x980x1225
526
G1 1/2"
10.5
1.7-5.4
TH-45 PM
8.5
2.1-7.3
45
1150x1020x1260
615
G1 1/2"
TH-55 PM
8.5
2.7-10.0
55
1600x1200x1460
1100
G2"
10.5
2.7-8.4
TH-75 PM
8.5
3.6-13.0
75
1700x1430x1460
1350
G2"
10.5
3.6-11.5