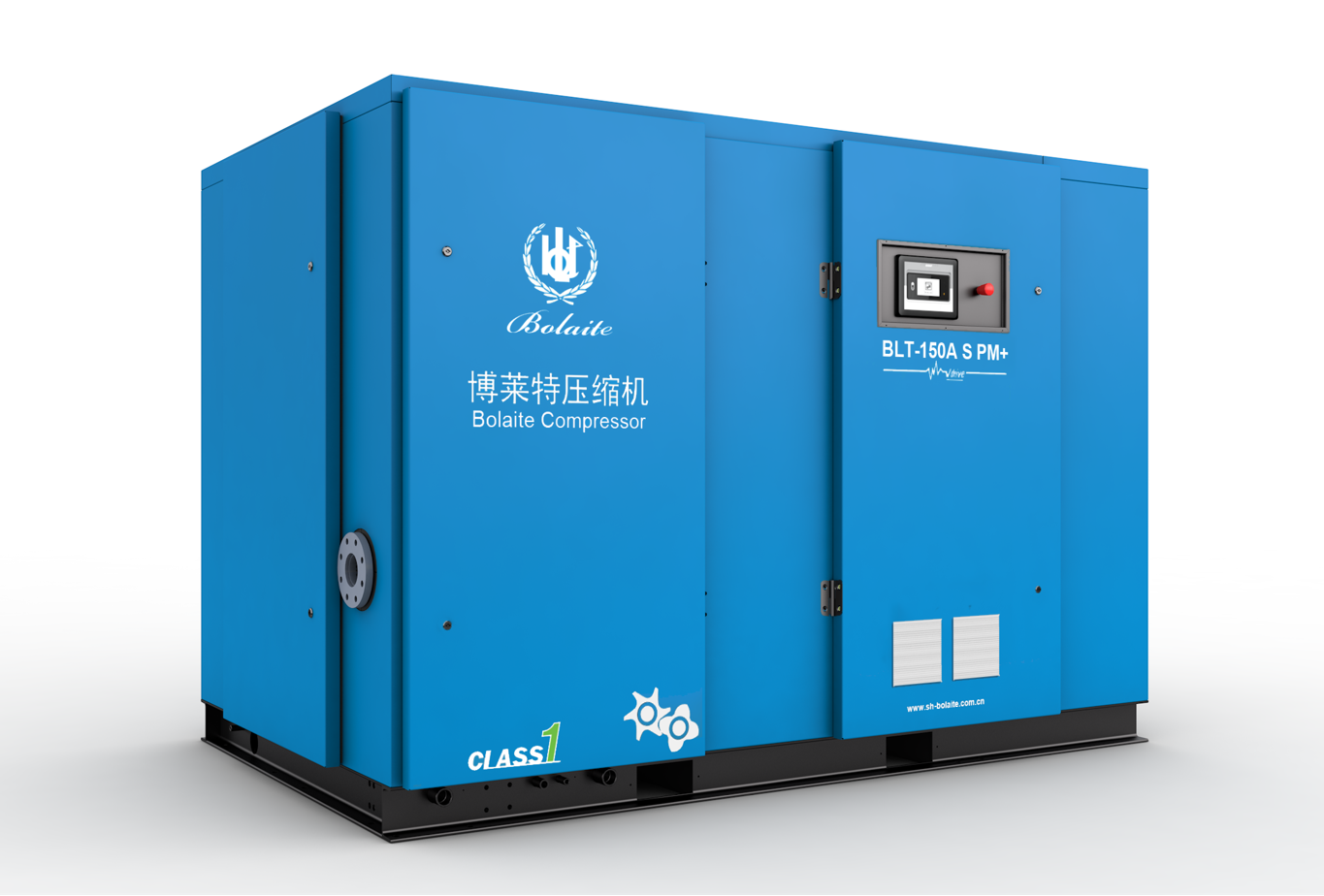 BLT 11-90 kW Variable Frequency Air Compressor
BLT variable frequency series (11-90 kW)
• This product benefits from more than 140 years of historical inheritance and technical experience.
• Reinforcement design is adopted for the product by taking advantages of the outstanding design capability and rich experience regarding air compressors of the Group's headquarters in Europe, following strict development processes and testing standards of the Group in Europe, and considering various complex climates and severe working conditions in China, to ensure reliable quality for each air compressor of the BLT series.
High-quality core components
• The screw-based main unit is just like the heart of screw compressor, and its performance directly affects the energy efficiency and service life of the whole machine. Bolaite uses the main unit coming from Atlas Copco, the leader in the air compressor field.
• SAP profile, which can optimize the screw compression efficiency to a greater extent and save more than 5% of energy when compared with similar products in the market
• High machining precision, low vibration of main unit and low noise
• SKF heavy-duty bearing and highly rigid rotor adopted to ensure a long service life and reliable operation
Intelligent control system
• LCD screen, with display in both Chinese and English, as well as friendly and intuitive interfaces, allowing adjustment made to the unit parameters in a fast and convenient way
• Powerful all-round protection function, which can prevent faults caused by short circuit, stalling, phase loss and overload to a greater extent
• Various signal outputs: switching analog signal/RS-485 port, with touch-type master controller for large screen (optional)
Electrical system
• With standardized design, safe and reliable
• Specialized wiring interface, making the wiring reasonable, compact, clear and easy for maintenance
• Siemens high-configuration series components adopted to ensure safe operation for a long time
Patented modular design
• Air compressors with power ≤ 37 kW adopt the patented innovative modular design, which integrates efficient main unit, valve group, main pipeline and oil-air separation system to realize no leakage and low pressure loss and make maintenance easier. The pioneered and patented technology contributes to the extremely high permissible efficiency and reliability
High-quality motor
• Efficient design and SKF bearing adopted to ensure an extra-long life of the motor
• IP54 protection and fully-enclosed motor, ensuring normal operation under severe working conditions
• Standard phase sequence protection adopted to prevent reverse rotation
Efficient and powerful cooling design
• Ultra-large oil cooler design, which keeps the temperature of lubricating oil within the normal range even in a high-temperature and dusty environment, to ensure the safety of compressor in summer
• Pre-filtration protection
• Unique pre-filtration screen cover, which can keep the interior of the whole machine clean and prolong the maintenance period, is easy to remove, install and clean, and is reusable
Energy consumption reduced by variable frequency drive
• Variable frequency drive : energy saving control
• Generally, the energy consumption cost of an air compressor accounts for about 82% of the total cost in its service cycle, and the electricity cost of air compressors may reach up to 40% of the total electricity cost of the factory. A long-term tracking study has demonstrated that the compressed air demands of most users fluctuate greatly by 40-80% on different dates, at different times or in different months.
• Bolaite's VFC air compressors, which are leading in technology, can accurately meet the compressed air demands of users. Along with the decrease in the user's air consumption, the compressor speeds down, the displacement declines correspondingly, and the energy consumption also decreases proportionally. With the advanced frequency conversion technology, the load on the compressor can be greatly reduced, resulting in significant decrease in energy consumption.
Average energy saving rate of 30% or more
• The Bolaite variable frequency air compressor can automatically adjust the motor speed according to the change of air demand, with an average energy saving rate of 30% or more. The additional cost of investing in the VFC air compressor can be recovered within 1 to 2 years.
Ordinary model: air demand fluctuation and high cost
• An ordinary air compressor copes with the fluctuation of air demand by setting a wide pressure zone, which allows loading at high air load and unloading at low air load, so that both pressure and energy consumption of the system are high. Due to the fluctuation of air demand, the compressor is in the unloaded state for a long time, leading to the waste of energy.
VFC model: variable flow and energy saving control
• The operating pressure set for the variable frequency air compressor is the pressure required by the customer, and the pressure of the whole system is low. Since the compressor can be adjusted at variable speed to meet the demands of the customer at low load, it almost needs no unloading, so that no unnecessary energy consumption exists.
Combination of main unit and efficient permanent magnet motor
BLT S PM + permanent magnet variable frequency compressor
With the combination of a brand-new Atlas Copco main unit and an efficient permanent magnet motor, as well as the application of a proven split direct drive system, this compressor has no disadvantages of the integrated permanent magnet variable frequency compressor, such as inconvenience in removal and installation and ease of demagnetization, ensuring its high reliability while pursuing efficiency.
New main unit
• Atlas Copco main unit, which is specially developed for frequency conversion technology, can still maintain efficient operation in a wide frequency range and reach the China's Level-1 energy efficiency in the main frequency range.

Efficient permanent magnet motor
• IPI55 protection and fully-enclosed motor adopted to eliminate the potential that dust may be absorbed by magnetic steel of the motor
• Startup without electric excitation
• High-grade magnetic steel adopted, showing good temperature resistance at 180°C
• IE4 efficient and energy-saving motor
Large touch-type master controller
• Customized to match the frequency converter
• LCD screen, with the language switchable between Chinese and English
• Rich self-diagnosis functions, such as fault alarm, maintenance reminder and automatic shutdown, as well as immediate and clear countermeasures
• Clock function, which may be used to set the machine to start up or shut down at a fixed time
• Multiple signal outputs: RS485 port
Direct drive
• 1:1 direct drive, steady and efficient
• Better proven split direct drive, which is more reliable than integrated drive
• Imported and branded large-size coupling adopted to ensure an extra-long life of the drive system
型号
排气压力 bar
流量
m3/min
功率
kW
外形尺寸
LxWxH mm
重量
kg
出口尺寸

最小
最大
BLT-10A S PM+
6
13
0.29-1.20
7.5
1100x850x1080
230
G3/4"
BLT-15A S PM+
6
13
0.38-1.81
11
1100x850x1080
231
G3/4"
BLT-20A S PM+
6
13
0.5-2.2
15
1100x850x1080
241
G3/4"
BLT-25A S PM+
6
13
0.7-3.4
18.5
1250x950x1180
313
G1"
BLT-30A S PM+
6
13
0.7-3.8
22
1250x950x1180
321
G1"
BLT-40A S PM+
6
13
1.4-5.7
30
1330x950x1200
412
G1 1/2"
BLT-50A S PM+
6
13
1.9-6.4
37
1330x950x1200
413
G1 1/2"
BLT-60A S PM+
6
13
1.6-8.6
45
1773x980x1600
733
G1 1/2"
BLT-75A S PM+
6
13
1.6-11.4
55
2210x1060x1600
932
G2"
BLT-100A S PM+
6
13
1.7-13.3
75
2210x1060x1600
973
G2"
BLT-100A S PM++
6
13
3.3-15.4
75
2254x1060x1600
1600
G2"
BLT-120A S PM+
6
13
3.8-18.0
90
2254x1060x1600
1650
G2"