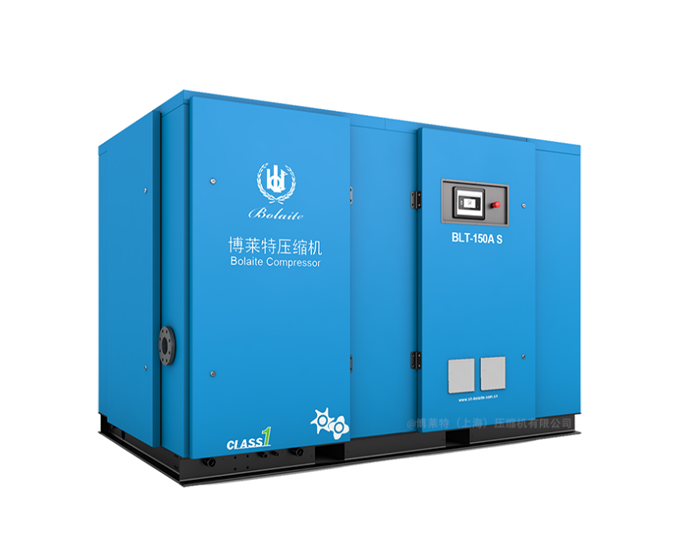 BLT S Energy-saving Air Compressor
Benefited from more than 140 years of historical heritage and technical experience.
Utilizing the outstanding design capabilities and rich experience of the European Group's headquarters in air compressors and testing standards of the European Group,the company has strength-ended the design of various complex climates and poor working conditions in china to ensure each BLT series compressor provides the most reliable quality assurance
High quality core components
The screw rotor is like the heart of a screw compressor.
lts performance directly affects the energ effioency and service life of the whole machine. Bolaite uses the Atlas Copco rotor which is the leading rotor in compressor field.
The rocessing precision is high, the host vibration is small, and the noise is low.
Intelligent control system
LCD display in English and Chinese, the interface is friendly and intuitive, and the unit parameters can be adjusted quickly and conveniently.
A variety of signal outputs: switch analog / RS-485 port, optional large-screen touch master.
Electrical system
Standardized design, safe and reliable.
Specialized wiring interface, reasonable wiring, concise,clear and conducive to maintenance
Schneider and Siemens high-grade series components, long-term security for safe use.
High Quality Motor
Efficient design, SKF bearings ensure long life of the motor.
IP55 protection fully enclosed motor, can also run without worry under the dusty conditions.
Standard phase sequence protection prevents reverse rotation
Efficient Cooler
Large oil cooler design: Even in high temperature, dusty environment the cooler can keep the temperature of lubricating oil in normal range, ensuring the safety of the compressor through summer.
Pre-filter
Special pre-filter, keep the interior of the compressor clean, extend the maintenance period.
Easy to dismount, can be re-used.