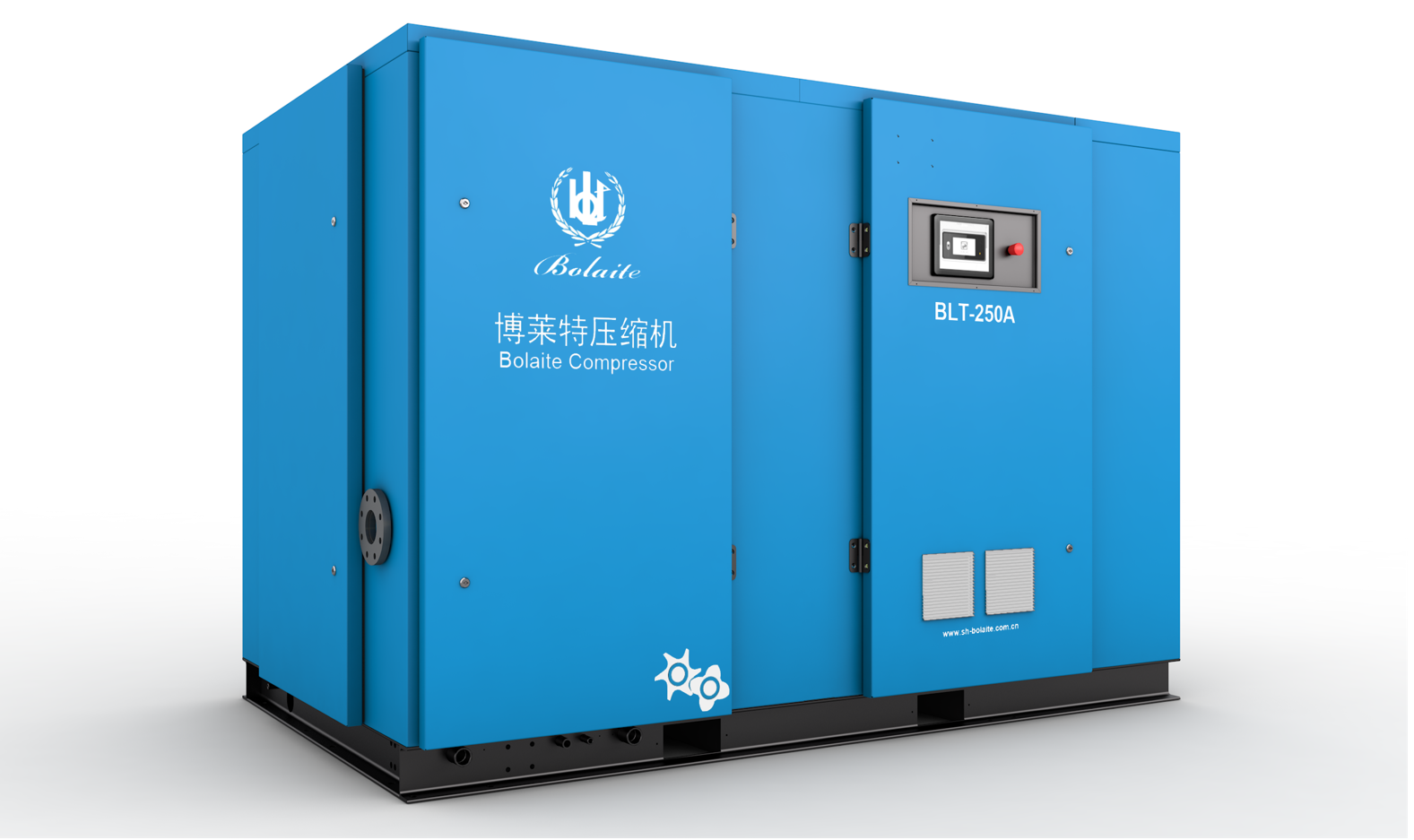 BLT 110-560 kW Fixed Speed Air Compressor
• This product benefits from more than 140 years of historical inheritance and technical experience.
• Reinforcement design is adopted for the product by taking advantages of the outstanding design capability and rich experience regarding air compressors of the Group's headquarters in Europe, following strict development processes and testing standards of the Group in Europe, and considering various complex climates and severe working conditions in China, to ensure reliable quality for each air compressor of the BLT series.
High-quality core components
• The screw-based main unit is just like the heart of screw compressor, and its performance directly affects the energy efficiency and service life of the whole machine. Bolaite uses the main unit coming from Atlas Copco, the leader in the air compressor field.
• Optimize the screw compression efficiency to the greatest extent, and save more than 5% of energy when compared with similar products in the market
• High machining precision, low vibration of main unit and low noise
• SKF heavy-duty bearing and highly rigid rotor adopted to ensure a long service life and reliable operation
Intelligent control system
• 7" color screen graphic display, with both touch screen and key control modes, simple and easy to operate
• Chinese and English languages available and settable
• Support various signal outputs: switching analog signal/RS485 port
Electrical system
• With standardized design, safe and reliable
• Specialized wiring interface, making the wiring reasonable, compact, clear and easy for maintenance
• Schneider high-configuration series electrical components adopted to ensure safe operation for a long time
Vacuum intake valve
• Less pressure loss, saving more energy
• A few moving parts contained, without vulnerable parts such as "spring" and "servo cylinder", with its service life increased by ten times
• Maintenance-free
High- quality motor
• Efficient design and SKF bearing adopted to ensure an extra-long life of the motor
• IP54 protection and fully-enclosed motor, ensuring normal operation under severe working conditions
• Standard phase sequence protection adopted to prevent reverse rotation
Efficient and powerful cooling design
• Separation design of fan and cooler, which effectively prevents cooler leakage and makes it easier to clean and maintain the cooler
• Ultra-large oil cooler design, which keeps the temperature of lubricating oil within the normal range even in a high-temperature and dusty environment, to ensure the safety of compressor in summer
Pre-filtration protection
• Unique pre-filtration screen cover, which can keep the interior of the whole machine clean and prolong the maintenance period, is easy to remove, install and clean, and is reusable
型号

排气压力 bar
流量
m3/min
功率
kW
外形尺寸
LxWxH mm
重量(风冷/水冷)
kg
出口尺寸

进出水口

BLT-150A/W
7.5
21.2
110
2260x1230x1600 风冷
2366x1200x1600 水冷
1870/2400
G 2" 风冷
DN65 水冷
G1 1/4"
8.5
20.0
10.5
17.1
13
14.3
BLT-175A/W
7.5
25.0
132
2260x1230x1600 风冷
2366x1200x1600 水冷
1920/2550
G 2" 风冷
DN65 水冷
G1 1/4"
8.5
24.3
10.5
21.0
13
17.0
BLT-200A/W
7.5
30.5
160
2880x1754x1930
2970/2870
DN80
G1 1/4"
8.5
29.2
10.5
26.9
13
22.5
BLT-250A/W
7.5
32.9
180
2880x1754x1930
3150/3050
DN80
G1 1/4"
8.5
31.2
10.5
29.1
13
25.5
BLT-275A/W
7.5
36.8
200
3502x1754x1983 风冷
2902x1754x1980 水冷
3602x2104x2023(6kV 10kV)风冷
3602x2104x2020(6kV 10kV)风冷
3450/3240(380V)
3560/3350(6kV)
4060/3850(10kV)
DN100
G2"
8.5
34.4
10.5
31.3
13
28.7
BLT-350A/W
7.5
45.8
250
3502x1754x1983 风冷
2902x1754x1980 水冷
3602x2104x2023(6kV 10kV)风冷
3602x2104x2020(6kV 10kV)风冷
3620/3410(380V)
3730/3520(6kV)
4180/3970(10kV)
DN100
G2"
8.5
43.3
10.5
39.0
13
35.5
BLT-375A/W
7.5
52.4
280
4800x2150x2250 风冷
3600x2150x2250 水冷
5925/5490(380V)
6065/5630(6kV)
6565/6130(10kV)
DN125
G2"
8.5
50.0
10.5
43.7
13
39.0
BLT-425A/W
7.5
55.0
315
5100x2150x2250 风冷
3600x2150x2250 水冷
6350/5730(380V)
6410/5790(6kV)
7520/6900(10kV)
DN125
G2"
8.5
54.8
10.5
50.7
13
41.4
BLT-475A/W
7.5
63.5
355
5100x2150x2250 风冷
3600x2150x2250 水冷
6380/5760(380V)
6800/6180(6kV)
7520/6900(10kV)
DN125
G2"
8.5
63.3
10.5
56.1
13
46.2
BLT-530W
8
69.8
400
4535x2140x2300
9060(6kV)
9890(10kV)
DN150
G2"
10
60.0
13
49.5
BLT-600W
8
78.0
450
4535x2140x2300
9125(6kV)
9945(10kV)
DN150
G2"
10
67.9
13
56.6
BLT-670W
8
85.8
500
4535x2140x2300
10050(6kV)
10190(10kV)
DN150
G2"
10
75.4
13
63.4
BLT-750W
8
96.5
560
4535x2140x2300
10100(6kV)
10330(10kV)
DN150
G2"
BLT-425W*
7.5
62.5
315
3465×1854×2100
5420(6kV)
5520(10kV)
DN125
G2"
8.5
60.0
10.5
55.0
BLT-475W*
7.5
68.0
355
3465×1854×2100
5570(6kV)
5720(10kV)
DN125
G2"
8.5
65.5
10.5
60.0